Kong of Skull Island is an upcoming six-issue comic miniseries published by BOOM! Studios, and an official prequel to the 1933film, King Kong.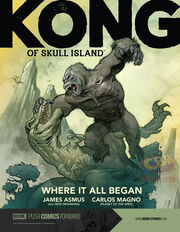 information
Edit
Kong of Skull Island was revealed on April 7, 2016 in an interview with writer James Asmus conducted by Comic Book Resources. In the interview, Asmus revealed that the comic would be illustrated by Carlos Magno, known for his work on several Planet of the Apes comics. Asmus stated that when developing the idea for the comic, he approached the estate of Merian C. Cooper, Kong's original creator, to discuss the official King Kong mythos and determine a point in time to focus the story around. Asmus said he was interested by the idea that the natives actually fled to Skull Island, and decided to have the comic focus on this time in the mythos. Covers for the series will be provided by Felipe Massafera, Nick Robles, Eric Powell, Ryan Sook and Paul Pope. Eric Powell, who previously wrote several issues of IDW Publishing's Godzilla: Kingdom of Monsters series, also released official promotional artwork for the comic. The first issue of Kong of Skull Island is set for release on July 13, 2016.[1]
Ad blocker interference detected!
Wikia is a free-to-use site that makes money from advertising. We have a modified experience for viewers using ad blockers

Wikia is not accessible if you've made further modifications. Remove the custom ad blocker rule(s) and the page will load as expected.