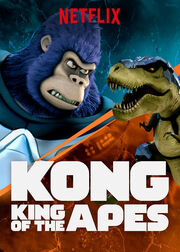 Kong: King of the Apes
 is an American Netflix-exclusive animated kaiju series co-created by Netflix, Arad Animation, and 41 Entertainment released to Netflix on April 15, 2016.
On January 29, 2017, Netflix announced Kong: King of the Apes was picked up for a sophomore season. According to the official announcement, the season two premiere is slated for 2018.
"Set in 2050, Kong becomes a wanted fugitive after wrecking havoc at Alcatraz Island's Natural History and Marine Preserve. What most humans on the hunt for the formidable animal don't realize, though, is that Kong was framed by an evil genius who plans to terrorize the world with an army of enormous robotic dinosaurs. As the only beast strong enough to save humanity from the mechanical dinos, Kong must rely on the help of three kids who know the truth about him."
Characters
Edit
Episodes
Edit
Season 1
Edit
Kong: King of the Apes
Snake In the Grass
Kong in 3D
Poacher's Prize
King's Ransom
Little Bots, Big Problems
Botila-Zilla
Bionic Arms Race
Honey I Shrunk the Kong
Kong On Ice
Takeover
Robosquitoes
Missing
Season 2
Edit
Season 2 will reveal the fate of Kong and Lukas, who fell into a volcano at the end of Season 1, with the group discovering a new prehistoric underworld full of dinosaurs and giant insects that promise to bring viewers yet another action-packed season.
(Episodes 2018)
Trailers
Edit
References
Edit
http://insidetv.ew.com/2014/10/01/netflix-kong-king-of-the-apes/?hootPostID=7ae72b916a37f8d1ca250676ec40553c