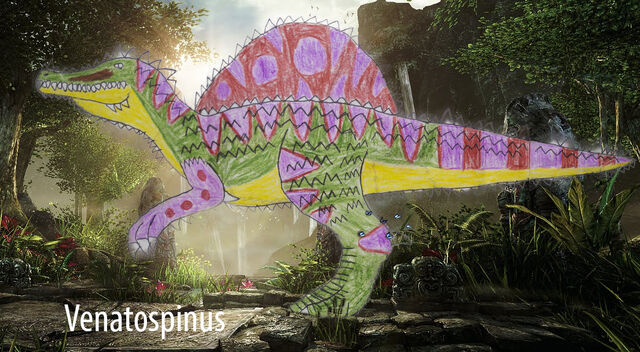 Venatospinus 
Edit
El dinosaurio carnivoro mas grande de la isla calavera. 
Es el descendiente ancestral del Spinosaurus, pero pose 5 dedos con garras en sus brazos. 
Es mas grande y pesado que el Vastatosaurus Rex. 
Mide 24 metros de largo, 7 metros de alto y pesaba 18 toneladas. 
Viven en los pantanos, en la selva, en los rios y en las playas. 
Se alimenta de pescados y otros animales y de dinosaurios de todos los tamaños. 
Tenia una epinas dorsal para regular la temperatura de su cuerpo. 
Sus garras eran armas letales. 
Este asesinos extremadamente peligroso, era un gran pescado para atrapar pescados con su hocico largo. 
Tenia una cabeza muy similar a un cocodrilo. 
Es una maquina asesina para matar gigantes. 
File history
Click on a date/time to view the file as it appeared at that time.
Metadata
Ad blocker interference detected!
Wikia is a free-to-use site that makes money from advertising. We have a modified experience for viewers using ad blockers

Wikia is not accessible if you've made further modifications. Remove the custom ad blocker rule(s) and the page will load as expected.