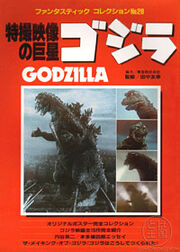 Author(s): Various
Language: Japanese
Year of Release: 1983
Photos: 399
Publisher: Asahisonorama
Genre: Non-Fiction
Pages: 64
Colour: Colour (120 photos)
ISBN: N/A
Another entry in the long running Fantastic Collection book series, volume 28 focuses exclusively on the 15 Godzilla films which had been made up to this point. Like other entries in the Fantastic Collection series, this title is very picture heavy, which makes it more import friendly; however, the pictures themselves, and the more cheaply made paper which the book was printed on, aren't up to par with what one has later come to expect from other books in the series. Volume 28 starts out with a opening by Toho producer Tomoyuki Tanaka, before diving into eight pages of glorious color shots from the Godzilla films. What follows next is nine pages of background information on the films accompanied by almost unrecognizable, as the brightness for these shots is unbearably low, black and white photos. Next is a section devoted to director Ishrio Honda and the kaiju of the Godzilla films, each are accompanied by numerous black and white photos, most of which are rarely seen in publication. As a closing point, the book features a nice section dedicated to the posters of the 15 Godzilla films, and has color shots of 87 different posters in all; unfortently, most of these photos are very small, measuring around 3 centimeters tall and 2 centimeters wide, with some exceptions, like the full size photos for the Godzilla (1954) and Godzilla King of the Monsters posters.
Ad blocker interference detected!
Wikia is a free-to-use site that makes money from advertising. We have a modified experience for viewers using ad blockers

Wikia is not accessible if you've made further modifications. Remove the custom ad blocker rule(s) and the page will load as expected.