In the extended edition of the film, a soldier armed with a Browning Automatic Rifle
 in the back of a military truck is telling his fellow comrades what they will do to Kong before the giant ape runs into the vehicle, and smashes it into a wall. Note that the gun is a BAR M1918A2 with bipod removed, which wouldn't have existed at the time of the movie. A BAR M1918 would have been correct.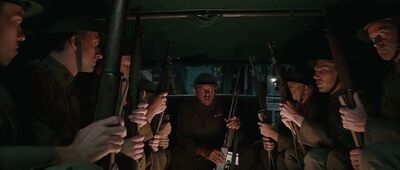 Ad blocker interference detected!
Wikia is a free-to-use site that makes money from advertising. We have a modified experience for viewers using ad blockers

Wikia is not accessible if you've made further modifications. Remove the custom ad blocker rule(s) and the page will load as expected.