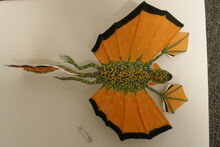 Alatusaurus fontinalis is a 8-10 (20-25 centimeters) inches long subspecie of Alatusaurus, flying lizard that is found on Skull Island. The animal is described in the book "The World of Kong: A Natural History of Skull Island" (2005).
Body coloration of Alatusaurus fontinalis is simular to a brook trout, which hence the scientific name.
Ad blocker interference detected!
Wikia is a free-to-use site that makes money from advertising. We have a modified experience for viewers using ad blockers

Wikia is not accessible if you've made further modifications. Remove the custom ad blocker rule(s) and the page will load as expected.